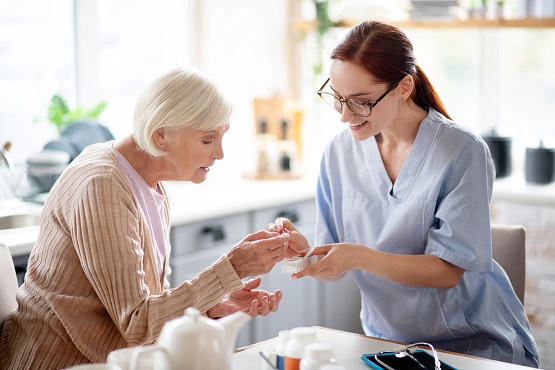 Medications are an important part of maintaining good overall health and well-being for you and your family. This is because medications prescribed by your doctor can help you manage chronic medical conditions or treat minor illnesses.
If you have medications that you need to take, be sure to take them consistently, on time, and with the correct dosage to ensure effective treatment. However, not all individuals can successfully adhere to their medications because of factors like aging, mental health issues, and disability.
Fortunately, we are here to help you. As a high-quality provider of skilled nursing in Pennsylvania, we will be able to assist you with administering your medications. We can share with you a few tips on how to properly and safely manage your medications.
To learn more about your medications, speak with your trusted pharmacist or doctor. They can also provide you with professional advice on how to safely manage your medications.
Take your medications exactly as prescribed by your doctor. Self-medication will not help you and may even harm you by lowering your immune system and making you more susceptible to illnesses.
Be aware of the side effects of your medication and other drug interactions. Examine the side effects of your medications and how these interact with other drugs or substances.
Daily Dove Care is a high-quality provider of home health care in Philadelphia, Pennsylvania. We are dedicated to providing excellent healthcare solutions.
We offer a range of home health services to help our clients attain a much higher quality of life.
If you are looking to hire a direct care worker, you have come to the right place. You may contact us at 215-809-1639 for more information.